Two weeks after I turned 16, I went on a mission trip to Haiti.  When I returned and started my junior year of high school, my journalism class teacher asked me to write about my experience in Haiti for the school magazine.  This is when I first found I had a passion for writing and an ongoing, life-long love of words.  Thank you Mrs. Dean.
Haiti, 1976
We all have something we love to do and when we are doing it, we completely lose track of time and space…and all of our problems fade into the distance.  Some of us find this passion early in life, and others must do some living first before they know.
Now don't confuse passion for something you do, with the people you feel passionately about.  I'm talking about that something you love to do that replenishes your soul and gives you joy so you have the energy and drive to do the things you have to do in this life.  However, the people we feel passionately about are often the ones who provide the support and inspiration as we discover the things we love to do.
We went to the Denton Air Show on Saturday.  As I sat there in my folding chair that came out of a bag (which someone who loved coming up with new ideas, invented) I was thinking about the airplanes and how relatively new they are in our world.
Observing the planes up close and then watching them fly, made me curious about early aviation and about who had such a passion for it that they were inspired to revolutionize travel and transportation on our Planet Earth.
Wilbur was the older of the Wright Brothers.  He was born in 1867, just after the Civil War ended, and his brother, Orville was born four years later.  They came from a family of seven kids in Dayton, Ohio, and their father was a Bishop in the Church of the United Brethren in Christ.
Their passion for flying began when their father, who traveled for his job, brought his youngest sons a toy helicopter.  It was about a foot long and made of paper, cork and bamboo with a rubber band to twirl its rotor.  They played with it until it broke, and then they built a new one.
Later as adults, they had a printing business and a bicycle sales and repair shop together.  During this time, people around the world were using gliders to experiment with air flight.  With their knowledge of machinery and mechanical work, the Wright Brothers became interested in aeronautical experimentation and the possibility of engine-powered flying.
The Wright Brothers
In 1899, Wilbur wrote a letter to the Smithsonian Institution asking for information about aeronautics.  Between 1899 and 1903 the two brothers studied birds in flight, and studied and experimented with kites and gliders.  They studied the works of Sir George Cayley, Octave Chanute, Otto Lilienthal, Leonardo da Vinci, and Samuel Langley.  A wind tunnel was constructed in their bicycle shop for experiments with different kinds of wings and propellers.
In 1903, the brothers built a plane out of spruce, which is a lightweight and strong wood, and covered the surface areas with muslin fabric.  Orville and Wilbur designed and carved the wooden propellers and built a gasoline engine for their plane in their bicycle shop.  They called their plane the Wright Flyer 1.
They chose Kitty Hawk, North Carolina for their flight experiments because of the constant wind there (that added lift to their aircraft) and the soft sands of the beach that would help in the event of a crash. By 1902, they had made more than 700 successful flights with gliders on the beach at Kitty Hawk.
Orville Wright piloted the first powered airplane flight in the Wright Flyer 1 in December of 1903.  The flight lasted 12 seconds and traveled 120 feet going 6.8 miles per hour.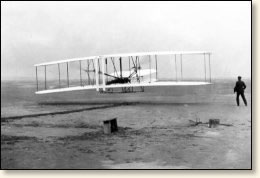 First powered airplane flight, 1903
Although they were not the first to build and fly an experimental aircraft, the Wright brothers were the first to invent a three axis control that enabled a pilot to steer an airplane effectively while also maintaining its equilibrium.
Neither brother ever married.  Perhaps they were too busy trying to fly, to find wives and build families.  Maybe their love of flying was enough for them.  Their steadfast pursuit of their passion for flying changed the world for all of us and paved the way for the many pilots who came later.
For most of us, we can find a way to balance our work and family life with our interests and the things we love to do.  Not all of the things we passionately love to do are going to change the world like the Wright Brothers did, but who knows, maybe they will.
Our time on Earth is not an infinite resource.  In the calendar of your life, how much time do you spend on your passion?